Aurora Borealis Above Smyrlabjörg, Iceland
During my vacation in Iceland in september 2003 I had the chance to see the first time the phenomenon of aurora borealis or northern light. In that one night of sept. 16 it must have been an especially spectacular performance. It was amazing. In the nights after, it wasn't nearly as bright as in this night.
When I looked out the window at appx. 12pm the aurora borealis was barely visible, hardly distiquishable from moonlit clouds. But happy to see anything I took my digital camera and went out to see the whole sky. The location was the farm Smyrlabjörg in the south of Iceland (N63 25.60, W18 54.30). It was a bright moonlit night and I did not expect to be able to make any useful photographs.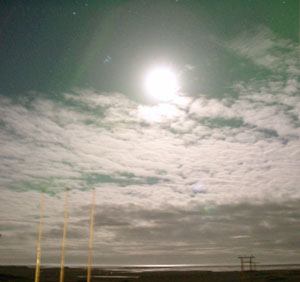 The scenery, lit by the moon, looks quite as if photographed at sunlight with the 5 to 10 seconds exposure times! The time is around midnight and the sky even looks blue!
From 0.30am on the green bands on the sky however became increasingly brighter. It looked as if the green light would reach below the clouds!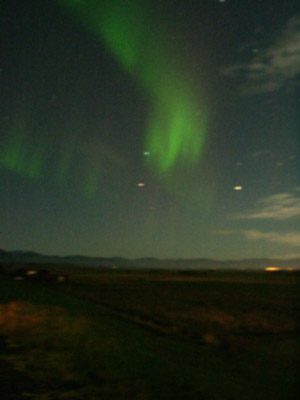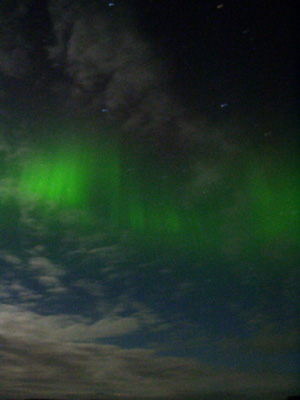 The green and in some places slightly red and sharply structured bands became unbelievable bright. Compare it with the brightness of the windows. The continousily moving and changing patterns were overwhelming!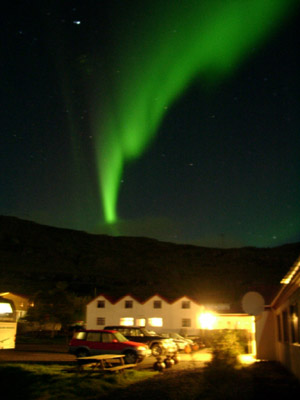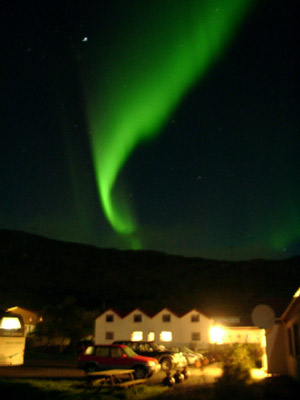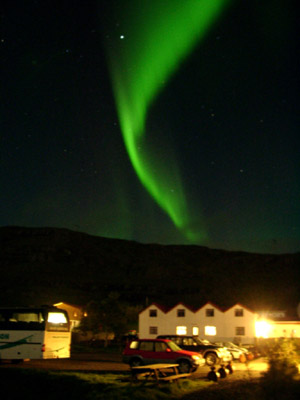 The green bands and streaks eventually filled the whole sky, it felt like being trapped in a plasma experiment.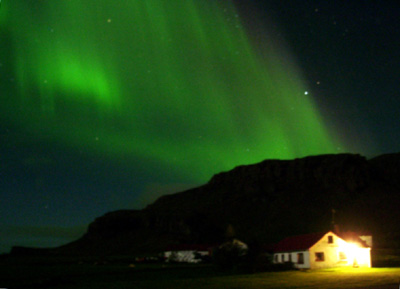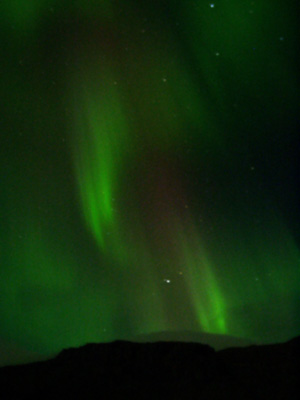 It culminated, when the brightest and wildly dancing part positioned directly over my head. Beam me up! What you see to the left is the flagpole I'm holding the camera against to photograph straight up.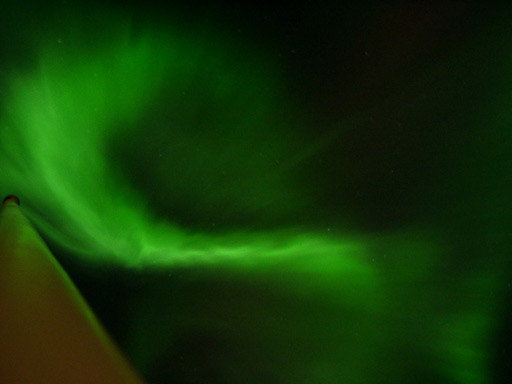 ---


All nighttime photos were taken with an exposure time between 5 and 10 seconds. Lacking a tripod, I had to push the camera against what was around: housewalls, flagpoles and so on. Focussing is difficult in darkness and having no tripod lets the stars look blurred.
The camera is a Casio QV3500EX. For dark-noise compensation at long exposure times the camera subtracts a dark image of same 'exposure' time. This works very good up to 5 sec exposure. The photos with longer exposure showed some 'hot pixels' which I had to clean off by hand.
If the images appear too dark, use the opportunity to adjust your graphic cards gamma setting.